Tamlex continues to innovate with its enhanced new range of FastConnect basket tray and accessories. Tamlex offers a comprehensive range of basket tray solutions for both power and data installation. The range has been designed to help reduce installation time on-site and therefore save you money. The Tamlex FastConnect basket tray system is quick and easy to assemble with no tools required thanks to its patented removable coupler which adds strength and rigidity.
FastConnect / Technical information
Electrogalvanised (ELECTRO ZINC/EZ) A steel base coated with a zinc layer by electrolysis, by means of submerging the lengths in a bath composed of a zinc solutions, in accordance with BS EN ISO 2081. Depending on the type of zinc layer, it will have a different degree of protection on the steel, avoiding corrosion and enhancing the visual appearance of the length. This treatment is carried out once the length has been welded.
The IEC 61537 Standard classifies the degree of resistance to corrosion of the system's components depending on the steel's electrolytic covering, belonging to Class 1 those with a minimum thickness of 5μm and to Class 2 those of 12μm. Tamlex uses Class 6 as its standard material for its basket tray in order to guarantee the quality of its products against corrosion. This treatment is used in dry environments free of pollutants.
Support Bracket
The distance between supports is of 1.2 m and the maximum load is of 10Kg/m.
Light Duty Support Bracket
The distance between supports is of 1.2 m and the maximum load is of 2Kg/m
Earth Bonding
For earth bonding requirements please refer to the current Wiring Regulations BS7671 and all current amendments.
Allowable Working Load AWL (N/m) The allowable working load (AWL) is the maximum load which can be applied during normal use, without danger. Therefore, the workload shall always be less than the AWL. The AWL of our products are calculated in accordance with BE EN 61537.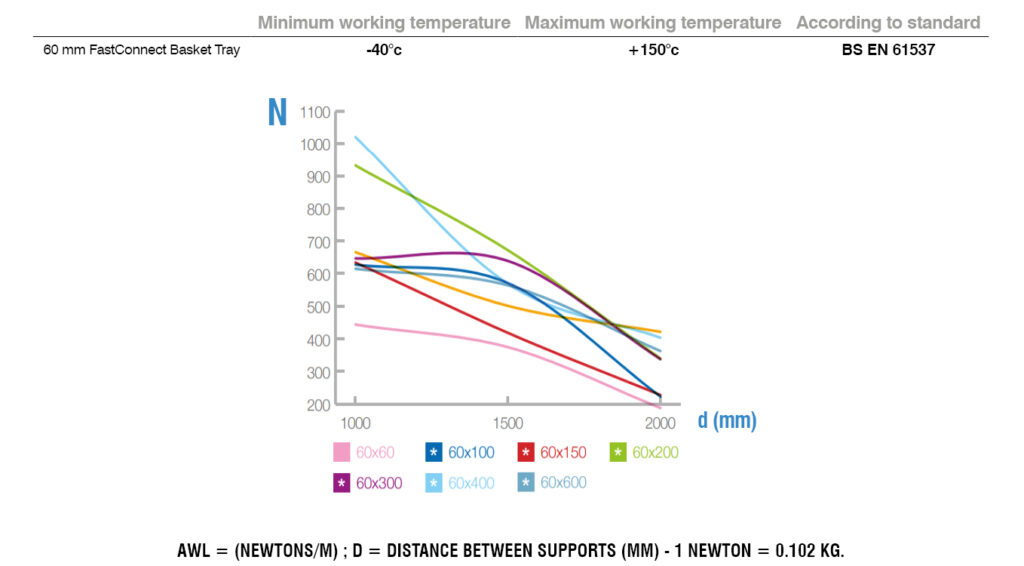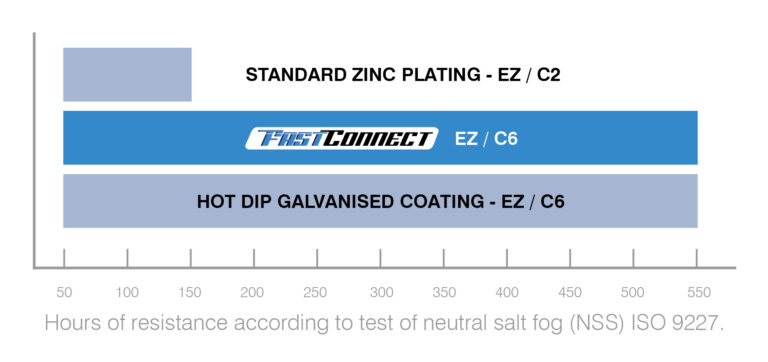 Higher corrosion resistance
550 hours of resistance according to test of neutral salt fog (NSS) ISO 9227.
Higher corrosion rating according to product standard IEC 61537
Class 6.
Greener coating
The final solution requires less chemicals, with lower levels of discharge of metal in the wastewater. Reduces costs and environmental impact.
New Innovated plated finish offering superior protection against corrosion
Tamlex presents its new anti-corrosion coating applied to the basket tray. After a long period of research and development with specialists in the field, the result is a superior galvanic coating. Iridescent, fluoride-free with much higher quality to the previous electro zinc and dichromate electrozinc.