BESPOKE STEEL CABLE MANAGEMENT SOLUTIONS
Tamlex as a UK manufacturer is uniquely placed to provide both standard items and bespoke fabricated solutions. This is achieved by a close working relationship with the wholesaler, contractor and also the end customer themselves in many instances.  We pride ourselves in being able to offer the most flexible sheet metal fabrication solutions available.
With our wide range of in-house, end-to-end services, we can take an initial drawing through to a completely assembled product, delivered to a high-quality finish that exceeds our customer's expectations.
We have been investing in our staff and equipment since 1969. Enabling us to bring you the most up to date sheet metal fabrication capabilities backed up by over 50+ years of experience by people who care, we're confident we can offer a flexible solution.
BESPOKE STEEL CABLE MANAGEMENT SOLUTIONS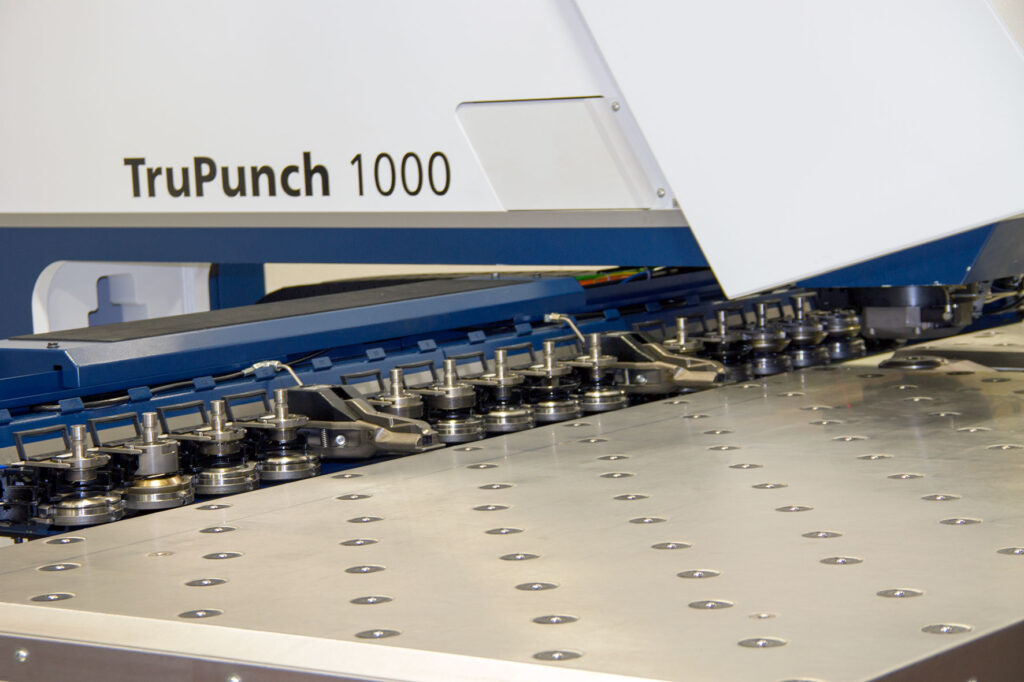 Our Trumpf TruPunch 1000 CNC punching press is an essential part of the factory production and at the heart of all our processes.
Capable of punching sheet steel up to 6.4mm in gauge at a stroke rate of up to 600 punches per minute.  With its 15 linear magazine multi-tool construction allowing full flexibility with a tool change time of between 2-4 seconds coupled with full 360° tool rotation, it really is very versatile.
We pride ourselves on always working at the cutting edge of technology, and that means investing in the latest CNC punching equipment in order to maximize productivity while minimizing lead times and maintaining the highest possible quality.  The full-service nature of our facility means that we can work on a project from initial design through to production and delivery.
Our fabrication and welding facilities deliver bespoke solutions for clients expecting the best.  We've been delivering premium sheet metal products since 1969, combining technical know-how and engineering experience with a commitment to investing in the latest technology.  Our fabrication and welding service is just one of many that clients can rely upon when coming to us with designs to be realized or problems to be solved.
In addition to the excellence of the fabrication and welding work, we carry out our customer's requests openly and transparently. Communication is quick, clear, and seamless throughout a project, and any questions a customer has are answered promptly and in detail.
Our Trumpf TruBend 3100 press brakes are used to bend lengths and accessories which are produced off the Trumpf TruPunch 1000.  The Trumpf TruBend 3100 press has a 100-ton downforce and a 3.06-metre bending bed, capable of bending up to 8mm gauge steel, with its automatic CNC crowning guarantees a precise and identical angle whatever the length of the bend. Capable of bends of any angle, accurate to within 0.05° degrees, the TruBend Series 3000 are the fastest machine in its class.  Despite its apparent simplicity, the V-bending process is a highly complex manufacturing technique.
We combine state-of-the-art equipment with engineering knowledge and the benefit of unrivalled hands-on experience, to deliver customised CNC metal forming to clients from an incredibly wide range of sectors.  Rather than simply taking on individual jobs, we offer end-to-end full-service delivery of multi-faceted projects, working through design to production and delivery.
A key aspect of the CNC metal forming solutions we offer is that they are only one part of a suite of solutions including CNC punching, metal finishing, and fabrication services.
The full-service way in which we work enables us to develop a deep understanding of the needs of our clients and of the role which any individual project will play in their wider business.
The precision of our CNC metal forming facilities enables us to create the kind of highly complex and detailed components our clients need. Our press brakes can be programmed manually or via angle 2D and 3D graphics simulation which, when combined with a flexible multi-axis down-stroking press brake, means that we can work at speed and in bulk while maintaining the highest quality from the first item to the last.
Metal finishing is a crucial process in our manufacturing service. It allows us to support our customers with both fabricated assemblies and machined components ready for delivery directly to the end-user. Our finishing treatments include in-house grinding and deburring to Powder Coating.
All our treatments are subject to rigorous quality standards and checks and undergo a full inspection before being dispatched or moving to assembly.
In addition to the quality and precision of our sheet metal finishing and assembly services, we offer solutions that are precision-engineered to fit with the timings of each of our customers. If needed, we can delay the final integration of components until a customer order is placed and then despatch the final product assemblies direct to the customer within the shortest possible lead times.
Bespoke Cable Management Case Studies