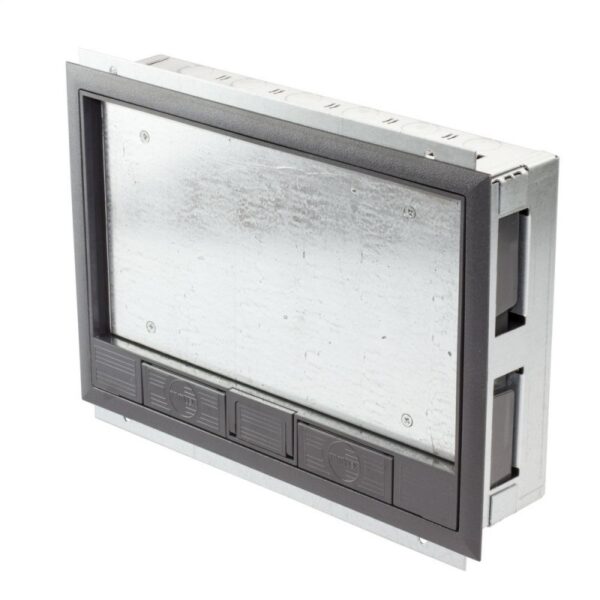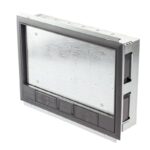 3 Compartment 68mm Deep Cavity Service Box
3 Compartment Cavity Service Box.
20mm Knockouts.
Reversible self-closing lid.
Reinforced with steel plates with a recessed lid to allow 10 mm infill.
Durable polycarbonate trim and lid as standard.
Cable outlets with sponge foam to prevent ingress.
Floor Cut-out size: 305mm x 205mm.
Accepts standard 85mm plates only.
Alternative metal trims available designed specifically for high traffic environments such as receptions and universities. (Can be powder coated).
Service boxes are designed for use in office type environments and should not be installed in main walkways, corridors, gangways.
Not suitable for wheeled traffic areas.
Customer Notice 68mm depth service boxes have restrictive cable capacity.
The 68mm cavity and screeded service boxes should only be fitted with flush / panel mounted sockets (C2GS) due to the limited depth.
Additional information
Datasheet
Additional information
Width

225mm

Height

68mm

Length

320mm

Dimensions

Overall Size: (L) 320mm x (W) 225mm
Floor Cut-Out Size: (L) 305mm x (W) 205mm

Weight (Kg)

2.5

Number of Compartments

3

Material

Hot Dipped Zinc Coated Low Carbon Steel Strip
Polycarbonate Lid and Trim

Colour/Finish

Pre Galvanised Steel (Zinc Coated)

Product Type

Floor Box Plate

Supplied With

20mm Knockout Only