Oversized Steel Trunking as Standard
Spencer Yates
As a Telford based British manufacturer of steel containment, Tamlex have always produced oversized steel trunking. These larger sizes in our Steel Turnbuckle trunking range have generally been offered on an 'available on request' basis. However, this is about to change. We can now offer our new turnbuckle trunking range from 50x50mm (TRE22) up to 300x300mm (TRE1212) as standard at 3m lengths including all accessories to suit.
These large sizes are fully compatible with our new pre-fitted turnbuckle system which requires a simple quarter turn to create a positive lock fixing. This feature multiplied over many in an installation can save considerable time over the conventional fixings. Efficiency was the driver of this development resulting in a lock-in-place turnbuckle which is easy to use and provides a strong and secure fixing.
As with our original steel trunking offering these larger sizes are available self-colour as standard or powder coated to any RAL colour on request.
Whether you are laying large cable sizes which never lay neatly and flatly or whether you're future proofing your installation for any additional wiring that may present itself, our oversized turnbuckle trunking is ideal.
With accessories to match all sizes please visit our overview page here to view the extensive product range or contact the factory direct.
A further enhancement to this steel trunking range shows the commitment we have here at Tamlex to provide a product range to suit today's installation. Offering these larger sizes from stock will ease the procurement process and speed up the quotation stage of your or your customer's projects.
Our Telford based manufacturing facility is on hand to support you and your customer with any technical information and answer any questions you may have.
For more information contact Tamlex direct: 01952 586 689 or sales@tamlex.co.uk
Other News...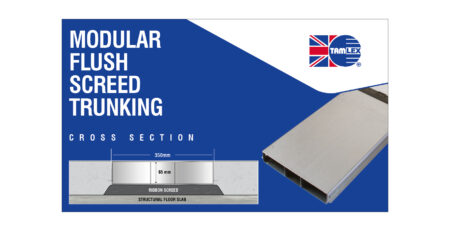 Flush Screed Floor Trunking Tamlex flush screed floor trunking is designed to distribute and provide access to power, voice and... read more