Steel Perimeter Trunking
Spencer Yates
Perimeter trunking is a cable management system used in a variety of environments such as offices and schools. The construction can be from PVC, aluminium or steel and is typically installed at the skirting or dado height. It is mostly used for running cables around an installation offering power or data outlets at different points as well as for the protection of the cables inside.
Perimeter Trunking Application
Steel Dado Trunking
Steel Skirting Trunking
As a British manufacturer of steel cable management products, we have two profiles of steel perimeter trunking available, dado and skirting trunking. These ranges combine excellent screening capability and clean design with superior mechanical strength, whilst also offering first-class fire protection. These attributes make it the ideal solution for high traffic environments such as hospitals, laboratories and universities.
Perimeter Trunking Application
Our perimeter trunking is powder coated white as standard offering a simple yet clean and stylish solution for the end-user. A wide variety of other colours are available or it can also be supplied in a self-colour galvanised finish, for a more industrial look. The strength and durability of its steel construction allow the installer to have peace of mind regarding security and preservation even in high traffic areas where additional protection may be required. The system can also be provided with tamperproof fixings if installed in public access areas.
Steel Dado Trunking
The dado trunking range with its square profile is ideal when additional protection against damage or fire is required. The stylish design would complement any office installation and with a choice of 2 or 3 compartments, you can ensure cables are segregated if needed. The dado trunking is available with 150mm or 200mm profiles which provides the installer with flexibility.
Steel Skirting Trunking
Our steel skirting trunking with a chamfered top edge is intended to be installed at floor level, therefore the galvanised steel construction will provide the installation with protection against unforeseen damage. Similar to our dado trunking, this range is available in 2 or 3 compartments with the choice of 150mm or 200mm profiles. The 3 compartments can provide effective cable segregation whereas the 2 compartment offers a more compact and discrete solution.
Conclusion
The perimeter trunking ranges have been carefully designed with the installer in mind, offering a quick and easy to fit system. With pre pierced fixing holes in the base and 25mm knockouts every 100mm along the length of the dividers to aid the installation of cable between compartments. Both profiles are complemented with a comprehensive range of accessories including flat, internal and external bends, tees and a range of mounting plates for both power and data in both 150mm and 200mm profiles.
Powder coating is low smoke zero halogen and the ranges come as standard in white (RAL 9016). Other colours or self-coloured steel are available and details should be given before ordering. For further information please  contact our sales office @ sales@tamlex.co.uk.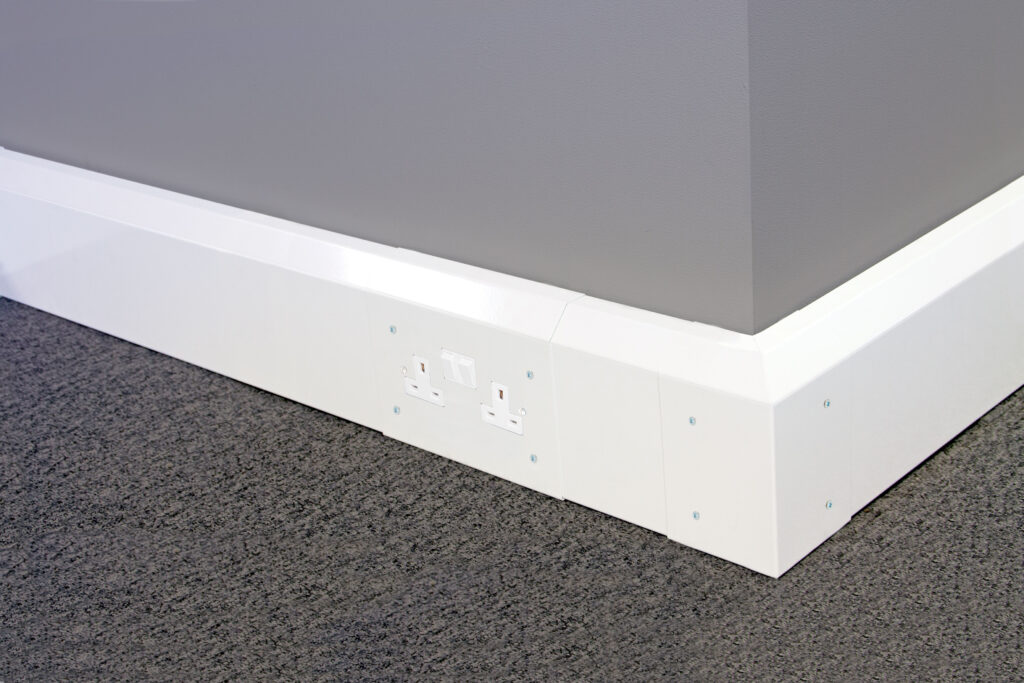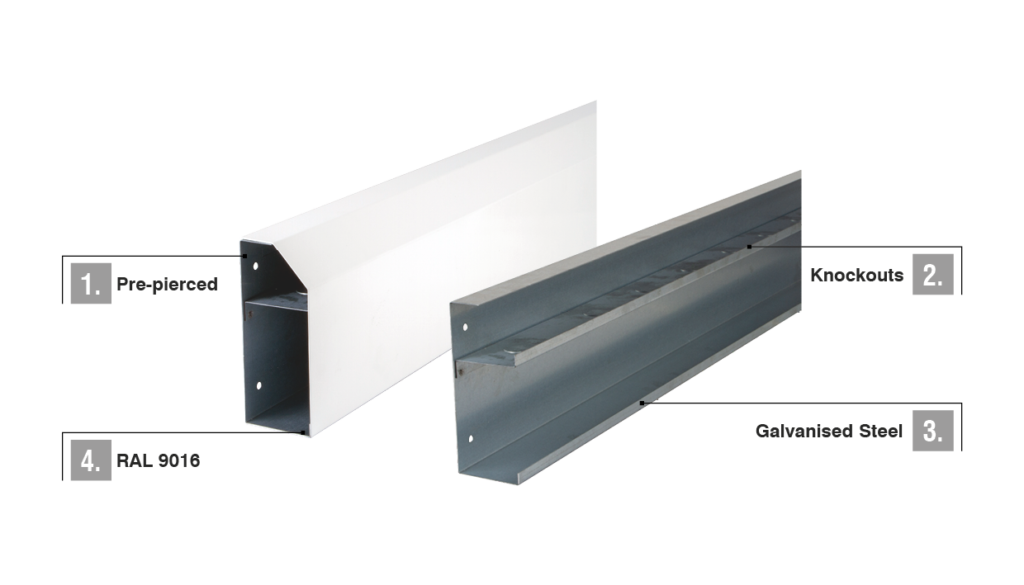 Other News...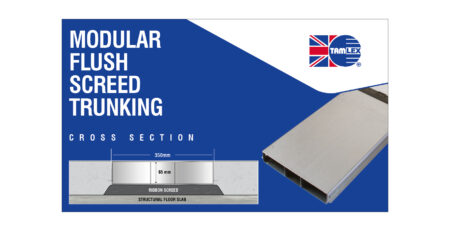 Flush Screed Floor Trunking Tamlex flush screed floor trunking is designed to distribute and provide access to power, voice and... read more