Tamlex FastConnect Basket Tray
Spencer Yates
We continue to innovate with our enhanced range of FastConnect basket tray and accessories. We offer a comprehensive range of basket tray solutions for both power and data installations. The basket tray range has been designed to help reduce installation time on-site and therefore save you money. The Tamlex FastConnect basket tray system is quick and easy to assemble with no tools required thanks to its patented removable coupler which adds strength and rigidity.
The light weight basket tray lengths are supplied in 3m, each length comes pre fitted with the FastConnect coupler. The tray lengths are finished with rounded safety edges that prevent damage or snagging to cables when being installed and potential harm to the installer.
The FastConnect range has been designed to reduce the demand on labour when being installed due to the light weight yet strong design and the simplicity of install. As the couplers are pre fitted during the manufacture this offers on-site convenience as well as a cost saving as there are less items such as screws, bolts or other asseccories that are not required.
Pre-fabricated bends, various support brackets, suppension frames and basket tray lids ensure all eventualities are accommodated for within this range to guarantee an efficient installation with all accessories.
The basket tray is available as standard in 3m length, 60mm to 600mm widths and 60mm deep and finished in an electro zinc Class 6 material in order to guarantee the quality of its products against corrosion. We can also offer this FastConnect basket tray range powder coated to any RAL colour on request.
Other News...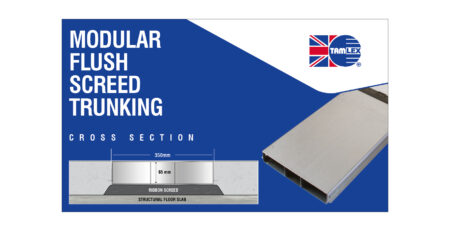 Flush Screed Floor Trunking Tamlex flush screed floor trunking is designed to distribute and provide access to power, voice and... read more